All About Chastity Cage Customization
Badassworkroom chastity cage customization is very flexible.You can custom your cage's details as much as you can require.
There are 3 basic sizes are needed to custom a chastityc cage.(chastity cage overall length,penis tube inner diameter,base ring inner diameter)
1.Chastity Cage Overall Length: equal to penis length in flaccid,or recommend to reduce 5mm-10mm length (especially for long length penis)from the flaccid length because the gravity always make the cage sag downwards.)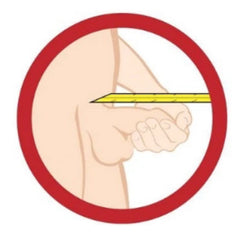 2.Penis Tube Inner Diameter: somebody call it penis shaft diameter,which is penis circumference/3.14. It is also equal to penis width in flaccid approximately,recommend to add a little space on width for penis tube inner diameter because a lttle wider tube make wearer feel more comfortable.
3.Base Ring Inner diameter: The theoretical method is to use a thin string to measure the cock root's circumference and divided by 3.14 to get the diameter.For example, the circumference is 188mm,188/3.14=60mm.So 60mm is the diameter.However,the base ring need to be tighter because it need to catch the whole chastity cage from the cock root.So it is recommended to reduce the diameter to be smaller size,for example,reduce 5mm to select 55mm as base ring inner diameter for above example.This is a suggestion,and this size is really not easy for the new beginer. If you are not sure what size is the most suitable, you can customize an extra base ring when customizing the cage, for example, 55mm+53mm.

A warm tip:There is no better measurement method than wearing a cock ring practically.Wearing the various sizing ring can help you realize the most suitable base ring inner diameter more efficiently. Here is the purchase link:
https://badassworkroom.com/products/sizing-ring-for-custom-chastity-cage-base-ring-size-measurement
*Base Ring Thickness
There are 4,5,6,7,8,9,10mm thickness ring for base ring making.Obviously,the thiner base ring,the lighter it is.So if have specific demand on base ring thickness,write it in "Other Sizes Details" textbox when order,otherwise its thickness is selected by us.
*Base Ring Style/Shape
The custom chastity cage is equipped with standard round flat base ring by default,if you need cage equipped with ergonomic curved base ring,please write your this demand in the "Other Style Details" textbox when order.But since the base ring is curved so it occupy some space on the gap between base ring and penis tube,the shortest gap would be 6-7mm approximately.If you have fixed gap size requirement,be specific.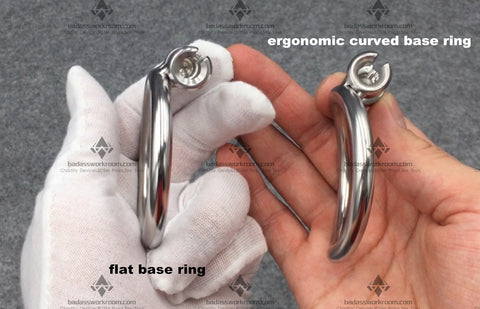 *About Ergonomic Curve Base Ring
The below picture is the viewing effect on the back of the ring. Of course, the side of the ring is curved as shown in the picture above.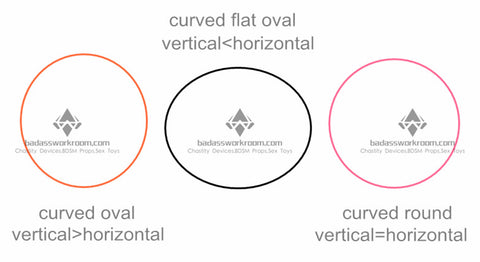 Normally curved round is the style selected by default,just let you know,other 2 style can be made as well.
*Lock Mechanism Selection
There are 6 kinds of lock mechanism available.
If you are not very sure about the base ring size,I would recommend other lock mechanism rather than stealth lock/magic lock,because I can make separate base ring for the cage using screw or padlock as lock mechanism without having the original cage.
But I can't make separate base ring for the cage using stealth lock/magic lock as lock mechanism without having the original cage.
Dual lock system:screw+permanent lock(see BA-01),padlock+permanent lock(see BA-05)
Single lock system:permanent lock(see BA-06),stealth lock/magic lock/integrated lock(see BA-03),padlock(see BA-16),screw(see BA-08)
*The Gap Between Base Ring and Penis Tube(Red Line)
Normally this gap horizontal distance is 10mm,but it is customizable,if you need other size of this gap(someone who has bloated cock root may need bigger gap)write it on "Other Sizes Details" textbox when order,otherwise,the gap is 10mm by default.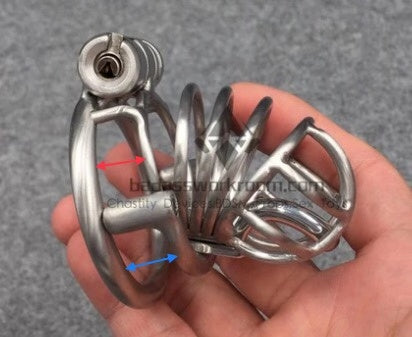 *The Gap Between Scrotum Bar and Base Ring(Blue Line)
Normally this gap horizontal distance is 10mm,it is customizable too.But if you have the problem of the ball slipping out, (some people have a small diameter of the penis tube, but the base ring is large, which will cause the diagonal distance between the bottom of the first ring of the penis tube and the upper edge of the base ring to be large.See below picture to understand what I mean, So some people's balls will slip out because the diagonal distance too big)This situation will be resolved if add the scrotum bar, and it is better if you can offer the security diagonal distance of scrotum bar and base ring, because without specific size requirement on this diagonal distance,I would only make the scrotum bar position according to my experience.So if you have these size requirements,write it on "Other Sizes Details" textbox when order.
*The Diagonal Distance Between Scrotum Bar and Base Ring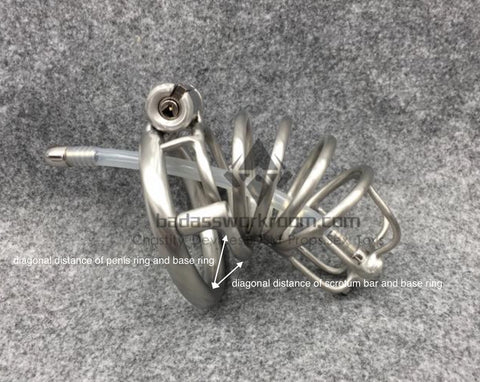 *The Main Part of Penis Tube(yellow part) and The Head of Penis Tube(green part)
The badassworkroom chastity cage customization is so flexible,if you want to mix one cage's penis tube main part with another cage's penis tube head,no problem.Or if you have more styles demand of the custom chastity cage,write it specifically in the "More Style Details" textbox when you order,and uploading with a draft to describe the details about the cage style would be recommended.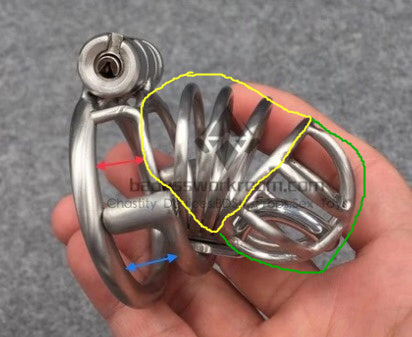 *Accessory(PA Hook,PA Rod,Catheter,frenum hook)
PA hook shape and PA rod thickness(gauge) is customizable.
Catheter thickness is 8mm normally.There are silicone catheter and steel catheter.Steel catheter thickness is optional from 6mm-10mm.